Many of us who have installed an Xtrons double din unit have experienced poor radio reception, with FM channels fading and non existent reception on AM.

There have been other threads on this and I know some members have fitted aerial boosters to try and get a better signal but now we seem to have the problem cracked once and for all.

The purple and yellow power cable on the aerial amp (which on the saloon is located inside the passenger side pillar by the rear windscreen) should be carrying 12v to power up the amp and the other end of this lead is inside the ISO grey plug which plugs into the back of the head unit.

On the Xtrons unit however the aerial power comes from a spare brown lead which comes out of the back of the unit and needs to be separately connected to the purple and yellow lead on the grey ISO plug at pin 5, this will give you 12v and the answer to your prayers. Connect an in line 1amp fuse to the brown wire coming out of the head unit and then connect the other end of the fuse to the purple and yellow cable at pin 5 of the ISO plug– and jobs a good un !

Before I found out about the spare brown cable on the back of the Xtrons unit I had already tested my purple and yellow cable going to the amp and discovered it wasn't carrying 12v so I ran another lead via a piggy back fuse from the fuse box area but if you do it this way make sure you select a fuse which is not a permanent live otherwise your battery could be run down over a period of time, and also insert a 1 amp in line fuse as above at the glovebox end.

The solution to this problem has been a combined effort so I would like to thank Duncan ( lowed B ) for his advice along the way and Mick ( Wide Load ) for information relating to the spare brown cable on the Xtrons Unit

Happy listening !
Robs Pictures at :
Robs Car Gallery
click below to access nano website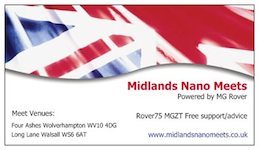 Planning is an unnatural process, much better to just get on with things, that way failure comes as a complete surprise instead of being preceeded by a period of worry and doubt