The first Midlands Nano meet of the year is coming up fast for a weekend at the Four Ashes, Wolverhampton on Saturday 11 & Sunday 12 May.

It will be the usual plan with cars being looked at starting Saturday morning, followed by a meal in the pub for those that want it on Saturday evening, back outside for a laugh and chat around the camp fire, plus on this occasion there is a good chance of a late BBQ.
Sunday morning will be more of the same looking at cars and we will finish in the afternoon usually around 5pm.
There will be at least 1 T4 (Testbook version 4.Computer Diagnostic System) diagnostics computer present and most probably 2
Camping is free for those that want it on both Friday and Saturday or either of, and there are also plenty of places in the area for an overnight stay on a B&B basis, plus 2 excellent truckstop cafes if anyone wants to visit
If you are not familiar with nano meets take a look around our website below for all the information you need with places to stay on the links page, and the full address and postcode of the meet venue
If you intend to have a Saturday evening meal we normally go in as a group to eat, but have to let the pub owner have the meal orders in advance to help the kitchen staff. The latest Four Ashes menu is on the nano website via the page " more " on the right hand side of the top toolbar so please post your meal orders so I can collect them in before the meet
If you intend to come to the meet please put your names down, it doesnt matter which 75/ZT group or forum you belong to as all are welcome. We do need an idea of numbers so please post names, tell us if you will attend on Saturday, Sunday or both, if you will be camping , and if you have a job to do on your car at the meet it will also help if you can indicate what that is.
As we had to cancel the first nano meet recently at our other venue at Teddybears we are all really looking forward to this one and with your help it will be another success.
Attending:
Trebor ( both days )
Paul ( both days )
Duncan ( both days and camping )
Mick (both days probably) If it promises to be a fine weekend I'll bring the tent.
Jürgen (probably both days) Definitely not camping, says he's straight.
Carl Penn
Dattrike ( both days and camping)
Gren 24 (Sunday )
Rover418275 (Saturday and Sunday camping)
Bluebird ( Sat pm and Sunday )
David ( Monk - Saturday only )
Arctic
Ceedy
Takestock
Robs Pictures at :
Robs Car Gallery
click below to access nano website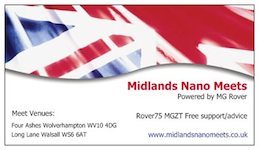 Planning is an unnatural process, much better to just get on with things, that way failure comes as a complete surprise instead of being preceeded by a period of worry and doubt