My LACK of customer service and support award goes to VW in relation to their 2.0 TSI Petrol engines which are found in almost all main stream VW models between 2008 and 2014.

I bought a used VW EOS on 19 January 2019 with a 2.0 TSI petrol engine from an independent garage with a 3 month warranty and on 19 August and just 7 months later and having done less than 3000 miles in the car since purchase it suffered a catastrophic engine failure due to the failure of the timing chain tensioner.

The car is on a 59 plate so 10 years old and had only had 1 previous owner, there were a genuine 38,000 miles on the clock and it came with a full service history and a chain driven engine which ought to make the engine almost bulletproof

However what I didn't know at the time of purchase was that the timing chain tensioner is a well known failure issue with this particular engine, so much so that VW have redesigned it at least 3 times so they are more than aware what problems it is causing to owners.

In America a number of owners grouped together to take VW to court with the very same issue and VW lost the case and have been recalling cars and paying compensation as recently as August 2019 to owners with cars up to 10 years old, they even appointed their own claim administrator to deal with claims under what has become known as the Volkswagen Timing Chain Product Liability Litigation. ( Civil Action №16–2765 ). Recalls have also happened in Australia so where do we stand in the UK, well it's a case of Rip Off Britain is still alive and well as VW do not want to know about an issue they have caused and offer a second rate service if you happen to live in the UK.

I phoned the VW headquarters in Milton Keynes who accepted no responsibility and said that they would not commit to any goodwill and would only look at the car if I got it to a VW dealer for assessment at my own cost and no doubt paying their extortionate dealer rates, when I mentioned the litigation in America and their moral obligation to help I was told it doesn't apply to the UK

I have read about cases in the UK where the car has been bought from VW, fully serviced by them and they have still not advised the owner about the issue and the tensioner has subsequently failed with little over 20,000 miles on the clock and they deny any responsibility, in one case thanks to the intervention of a newspaper VW have reluctantly paid up , no doubt to avoid reputational damage, as if that wasn't bad enough after the emissions scandal. Such a pity that good old customer service has been replaced by an army of accountants looking at profit & loss accounts and balance sheets.
I took my car to a local recommended independent VW garage and they have seen the issue many times before and on low mileage vehicles too, my own car has suffered a tensioner failure causing valve and piston damage , twisted cams and head needs checking or replacing, estimated cost of repair is £3,500. The car had the required amount of oil in and was not due a service, so the failure has not been caused by me.

If you have a car with one of these engines I would urge you to get the tensioner changed as some preventative maintenance now may save a lot of expense later down track. If the tensioner fails you could have any of the following issues, engine rattling noise at start up, not starting (because the timing chain has jumped and you likely have significant engine damage), as well as fault codes, and god forbid this happens when you are on a motorway it could be an extremely dangerous accident waiting to happen.

I can't take on the might of VW on my own and have no newspaper to take up my case , BBC watchdog have mentioned recently that a number of car manufacturers are treating customers with the same cars differently in different countries so why is that ?

I am a member of several car clubs and have put this on Facebook and I would ask that my friends share this message as far and wide as possible to spread the word about these engines and VW you should hang your heads in shame and thanks for nothing.
Robs Pictures at :
Robs Car Gallery
click below to access nano website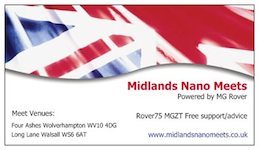 Planning is an unnatural process, much better to just get on with things, that way failure comes as a complete surprise instead of being preceeded by a period of worry and doubt