I have been experiencing an annoying vibration in the 75 Diesel for some time now which has been bugging me and spoiling my enjoyment of the car.
Reading the various issues that this could be related to ie engine mounts, wishbone bushes, injectors, DMF, exhaust brackets the list goes on and on.
I have changed the bottom engine mount and the wishbone bushes, put injector cleaner in the fuel and had started reading all about DMF failure wondering if this was the expensive issue I was now facing.
In the meantime my car has been in for service recently and i asked my mate who does it to look out for anything untoward whilst he was underneath the car and when he returned it he said he had serviced it but found nothing else wrong and hadnt noticed the vibration when driving it back to me.
When I next drove it the difference was amazing, it is a lot smoother and the vibration has gone so I had to phone him and ask what the hell he had done to my car and apart from the usual oil and filters etc he had changed the fuel filter.
There must have been some crud on the old filter affecting maybe the flow or the amount getting through but the car is a pleasure to drive again now.
Robs Pictures at :
Robs Car Gallery
click below to access nano website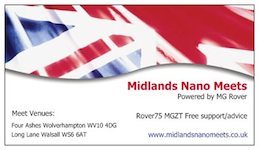 Planning is an unnatural process, much better to just get on with things, that way failure comes as a complete surprise instead of being preceeded by a period of worry and doubt