Duncan wrote:

Rover418275 wrote:Yes Duncan, that will be ok.

Great Mike, thanks. I'll see how it goes tomorrow afternoon!
Thats good news Duncan, hope the brake job goes to plan, is it just new bits ?
Jürgen wrote:

Duncan wrote:Weather is not bad tomorrow afternoon,

I'll only show up if it's not snowing.
See you at the weekend Jürgen and thanks for coming all that way to collect your powerfold gears !
Robs Pictures at :
Robs Car Gallery
click below to access nano website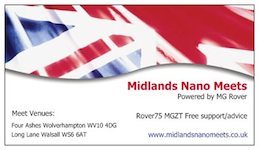 Planning is an unnatural process, much better to just get on with things, that way failure comes as a complete surprise instead of being preceeded by a period of worry and doubt