This is a local meet for us West MIdlanders and is held at The Four Ashes Pub near Wolverhampton on the evening of the first Thursday in every month during the summer months and starts around 6.30pm
Its the second time I have attended and my pictures are below, some of my favourites included the 2 Mark 2 Jaguars particularly the Black one with wire wheels and red leather interior, the two tone Austin Healey and you coudnt ignore the Lincoln Continental !
Somebody had keyed the Bonneville all down the door and wing and across the boot ( not at the meet ) you cant see it on the pictures but a pity the culprit coudnt have been caught in the act
There were about 6 of us at the meet and we all met up in advance and went in together so we could park up side by side, Rob bought his new V8 tourer, a real beauty and well worth his long search. We also met a couple of other 75/ZT owners and were telling them about the forum
Weather was good apart from light rain towards the end which gave us an excuse to air the MG Rover umbrellas, but all in all a good meet and a great way to spend a few hours during a nice summer evening, heres to the next one.
This is also the venue for the next (and maybe) future Nano meets, enjoy the pictures, and what is your favourite car ?
http://s235.photobucket.com/albums/ee21 ... =slideshow
Robs Pictures at :
Robs Car Gallery
click below to access nano website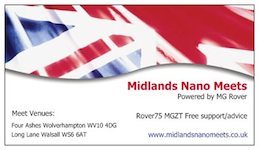 Planning is an unnatural process, much better to just get on with things, that way failure comes as a complete surprise instead of being preceeded by a period of worry and doubt