The dates for the 2012 Wolverhampton Nano meets have now been set and you can view them by clicking on the website hyperlink in my signature below and selecting " Future Events " from the top toolbar.

Please take a few minutes to look at our site and note the dates in your diaries if you intend to come to some or all of the Nano meets.

Nearer the dates we will post a thread on both this and the Club forums asking members to put their names down.
Robs Pictures at :
Robs Car Gallery
click below to access nano website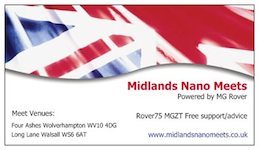 Planning is an unnatural process, much better to just get on with things, that way failure comes as a complete surprise instead of being preceeded by a period of worry and doubt