Water Pump or O ring ?
Following clutch failure on the ZT , the very next day as I was about to go on holiday in the diesel and it sprung a leak !
On closer inspection and with water all around the water pump it looked like a new pump would be needed, but along came Devilish who said he had seen at least 2 owners before change the water pump when all that was needed was a new O ring in the metal coolant pipe
So we dried the surplus off and watched with a torch and sure enough the leak was coming from the casing above the water pump where the O ring is situated and running down the car and onto the water pump giving the impression that it had failed.
The Rimmers diagram below shows the pipe in question and the O ring is item number 4
I had no chance of getting one today but did find one that looked exactly the same courtesy of my brother in law and fitted that with the help of Devilish and the leak has stopped at a total cost of £0.
The job is not for the faint hearted but the point is dont just assume your water pump has gone because there is water around it and buy and fit one when it could be a much cheaper fix
The coolant pipe which the O ring is located on is a metal one and the issue is that it doesn't appear that the the pipe will budge at all in order to pull the pipe to the right and the O ring free from the casing so a lot of owners tackle it the opposite way and try and remove the left hand part of the casing from the metal pipe instead.
This is a lot of work with the engine stabiliser having to be removed so you can get your hand in and the engine jacked up enough to get at the bolts to remove the casing.
However there is an easier way , if you remove the air filter and casing and get underneath the car you will find that the metal coolant pipe is held by 2 bolts in a bracket as shown in the middle of the pipe in the Rimmers blow up, these can also be removed from above but you will be working blind so we found it easier with one of us above and one underneath the car
Once removed the metal pipe can be prised enough to the right to pull it clear so that the O ring can be changed
Sorry there are no pictures but it didn't start out as a " how to "
Robs Pictures at :
Robs Car Gallery
click below to access nano website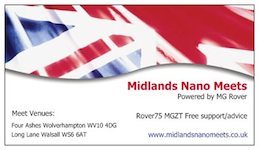 Planning is an unnatural process, much better to just get on with things, that way failure comes as a complete surprise instead of being preceeded by a period of worry and doubt