Midlands Nano Meet Sat 6 and Sun 7 July, Four Ashes, Wolverhampton, WV10 7DG
It will soon be time for the next nano meet which will take place over 2 days Saturday and Sunday, so feel free to come on either day or even better stay for both !
There will be free camping for those that want it and you can arrive on Friday afternoon/ evening if you wish to set up. Anyone who might want to stay in a local hotel for the night will be able to find accomodation suggestions on the nano website " links " page in my signature below
After the Saturday session with the cars we will gather in the pub for a drink and those that want to can have a meal in the pub if you wish but I will not be taking advance orders on this occasion. After a drink/meal back outside around the camp fire for a laugh and chat.
Sunday morning will be more of the same looking at cars and we will finish in the afternoon usually around 5pm.
There are usually 2 x T4 (Testbook version 4.Computer Diagnostic System) diagnostics present plus the nano crew who between them have a lot of knowledge and experience and are keen to pass it on.
If you intend to come to the meet please put your names down on this thread and I will update the list on this first post. We do need an idea of numbers so please tell us if you can whether you will attend on Saturday and /or Sunday, if you will be camping , and if you have a job to do on your car at the meet it will also help if you can indicate what that is, so that other members planning to attend can offer their support
Attending:
Rob ( weekend & camping )
Igp ( Sun )
Mike ( weekend Fri - Sun)
Jake ( Fri - Sun )
Paul ( Sat & Sun )
Colin ( Roverite -Sun )
Duncan (weekend ?)
Nige (Cockaa -Sat )
David ( Dattrike weekend )
Gren 24 ( Saturday )
The Monk ( Saturday)
Jürgen( weekend
)
persuer ( Sun )
Robs Pictures at :
Robs Car Gallery
click below to access nano website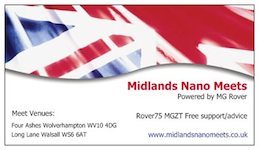 Planning is an unnatural process, much better to just get on with things, that way failure comes as a complete surprise instead of being preceeded by a period of worry and doubt