The next weekend Midlands Nano meet will take place at the
Four Ashes in Wolverhampton on Saturday 15th and Sunday 16th September
location:
Station Road
Wolverhampton
West Midlands WV10 7DG
It will be the usual drill with both days set aside for doing jobs on cars and sessions on T4 (Testbook version 4.Computer Diagnostic System) , in between which we will be having a pub meal on the premises on Saturday night
After the pub meal we normally gather round the camp fire and continue drinking and chatting until the early hours for those that want to
Free camping facilities are available and should you wish to travel up on Friday night and camp for both Friday and Saturday that is not a problem providing we can let the pub owner know. If camping is not your thing there are various places to stay not far way , Premier Inn, Travelodge and others just ask if you need any help with this or addresses and phone numbers of some of the places to stay can be found in the " useful links " section of the Nano website
These meets are normally a great success and go from strength to strength, so hope a number of you can make it.
More information about what goes on at these events can be found in the link below.
As these events are club and forum neutral all are welcome, but rather than me have to update numerous lists on different forums, would you please visit the Nano meet website via the link below and put your name down and I will keep an updated list in one place.
Once logged onto the website, click on "Nano Forum " and then Nano Meet Attendance " to record your name
http://www.wolverhamptonnanomeets.com/
Cheers
Trebor
(The current food menu for the Saturday evening meal at the Four Ashes will also be made available on the Nano website about a week to 10 days before the meet, where you will also be able to place your orders, but it may not be any different from the menu posted on the Nano website for the last meet in July which is still available in the "more " option on the top toolbar)
Robs Pictures at :
Robs Car Gallery
click below to access nano website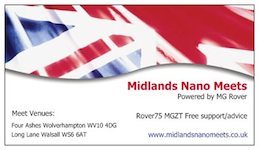 Planning is an unnatural process, much better to just get on with things, that way failure comes as a complete surprise instead of being preceeded by a period of worry and doubt