I am considering buying another car aswell as my Conny diesel, maybe something with a bit more oomph !

I would probably prefer to buy from a dealer so there is a warranty, but I have little experience of car price negotiation.

When i sell a car i am usually told its a buyers market, and when i buy one
its normallly a sellers market !

Given the current state of the economy and the rising price of fuel, i would have thought the car trade generally would be looking do do some decent deals.

I know it depends on the amount spent but is anybody out there in the car sales trade or have any first hand knowledge they can share ?
Robs Pictures at :
Robs Car Gallery
click below to access nano website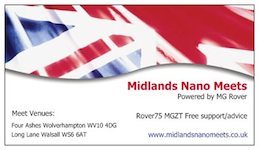 Planning is an unnatural process, much better to just get on with things, that way failure comes as a complete surprise instead of being preceeded by a period of worry and doubt