I need some friendly advice about some issues retrofiiting TC to my diesel.
At the last nano meet I had prefitted a used ABS (Antilock Braking System) pump with TC ( with the correct code MN )having first checked that the wiring was present in the car, so just needed a code chage via T4 (Testbook version 4.Computer Diagnostic System) and Bobs your Auntie, but it was not that simple or course !
The situation was not helped by me when fitting the wiring plug to the new pump as I bent 2 of the pins which gave in and snapped off, however a quick look at the Rave wiring diagram revealed that the broken pins were going into an unpopulated section of the plug so happy days and i thought i would get away with it
The car was T4d and codes changed by David after which I had the ABS light on constantly plus although the words " Traction Control " came on the IPK (Instrument pack (IPK from the German)) on start up it was quickly followed by the TC icon indicating that TC was switched off and depressing the TC switch on the dash had no affect at all. After a few days the ABS light went off after start up but TC still stayed switched off
So after the meet I concluded that either the used pump i fitted may have been faulty or i had damaged it when bending and breaking off the pins, so i sourced a brand new pump which i fitted today, but its made no difference as the TC icon is still permanently on the IPK and the dash TC switch is still having no effect.( and the plug is definitely fitted correctly this time ! )
When i fitted the used pump i bled all the brakes in the correct sequence although not on a T4, so had to do the same today having fitted a new and completely dry pump.
Started the bleed sequence usung Gunsons easibleed, starting with passenger rear and bled no problem, next drivers rear but nothing coming out at all not even having taken the bleed nipple completely off ! Both front brakes bled ok and i retried the drivers rear several times, trying with ignition on, engine running and pedal pumping but still nothing coming out at all, so abandoned for now.
There is a very interesting thread on the OC re bleeding via T4 , link below, and my theory having read it is i need a T4 bleed session to activate the ABS valves which may then allow proper bleeding, the thread below suggests that there are 2 T4 bleed sequences and one relates to a new pump having been fitted which is my situation.
Even if i bleed via T4 i still have no TC with a new pump and correct re coding so stumped with that one unless the failure to bleed properley is causing ABS issues and in turn non operation of TC but i have no ABS light on at present after start up
Thanks for reading this far, OC link here
http://www.the75andztclub.co.uk/forum/s ... e+bleeding
Robs Pictures at :
Robs Car Gallery
click below to access nano website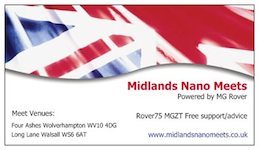 Planning is an unnatural process, much better to just get on with things, that way failure comes as a complete surprise instead of being preceeded by a period of worry and doubt