have just bought a ZT with straights and am slowly knocking it into shape, the centre caps are the metal ones and they need a refurb.
Looking on E bay there are ones worse than my own at anything from £8- £15each, some of which are the plastic type.
Does anyone know if the centre piece on the metal caps is removable, it looks as though it should be but its ceratinly not easy.
The outside of the centre cap would be easy to refurb, but thats not usally the problem its the middle circle just outside the MG badge which goes first and that is a different colour to the outside.
All in all a difficult refurb but someone has probably already tried so please share how you got on.
Robs Pictures at :
Robs Car Gallery
click below to access nano website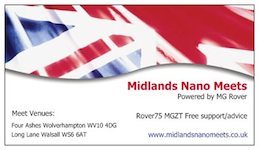 Planning is an unnatural process, much better to just get on with things, that way failure comes as a complete surprise instead of being preceeded by a period of worry and doubt