The idea of the Nano website and forum is, and always has been, to provide information relating to the Nano Meets and to allow owners wishing to attend our meets to post anything relevant to the Nano meets on the forum such as their intention to attend a meet, jobs they would like help and advice with etc. It will be a lot smaller than other respective forums and is NOT intended to replace or rival any of them, and as you would expect most of the traffic will be on or around the dates of meets.
From small beginnings the Nano meets have grown and gone from strength to strength to what we see today which are meets attracting over 50 cars.
The Nano meets are an entity in their own right and whilst we draw from the membership of several Rover 75 / MGZT internet groups, we are independent and the only requirements are to have, or be keen on, one of the appropriate cars and possibly, a sense of fun and sense of humour as well.
We need to move with the times and our existing website and particularly the forum was a bit clumsy and not user friendly, so has been replaced with a far better one which will allow us to keep things all in one place instead of scattered across different forums.
The website will have a similar look as most of the information from the old one has been copied across , it is the forum where the main change has occurred
The intention will be to advertise the date of each meet on other forums as now, but ask those attending to record their names on the Nano forum so there is just one list of attendees. You will also be able to say what jobs you need doing and find out what work we can and cannot do on the day, plus send pms to nano members or crew, in effect a one stop shop.
We also have information about what T4 (Testbook version 4.Computer Diagnostic System) facilities we offer and what the ethos of the meets is all about
The dates for 2014 are now on the new site and there is one more than last years to accommodate our first ever weekend meet at Teddybears, so get them in your diary if you intend to come.
We hope you will check out our new website and forum, just click below to access: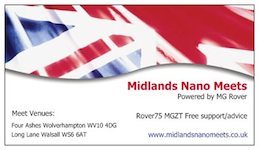 Robs Pictures at :
Robs Car Gallery
click below to access nano website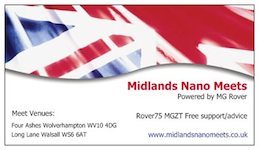 Planning is an unnatural process, much better to just get on with things, that way failure comes as a complete surprise instead of being preceeded by a period of worry and doubt