I have managed to get a factory tour of the Bentley factory at Crewe on Friday 20 April, It starts at 9am and lasts for 2 hours

These tours are very popular as you can imagine and dates for a few tours at a time are released on the Bentley website monthly and are snapped up the same day. I have missed out previously but struck gold on this occasion.

There is no choice on tour days as they only happen on Friday mornings and you cant pick and choose dates either it's a case of accepting what you are offered.

There is a maximum of 16 allowed on the visit, for which there is no charge but they do ask for a contribution to one of two charities that they support, St Lukes Hospice and/or The Princes Trust.

I already have 8 names ( you know who you are ) and need another 8 to make up the numbers , this will be on a first to put your name down basis until I have 8 names

At the moment this thread is only on the Community forum

NB: Duncan cant apply !
Robs Pictures at :
Robs Car Gallery
click below to access nano website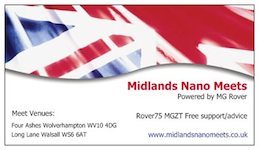 Planning is an unnatural process, much better to just get on with things, that way failure comes as a complete surprise instead of being preceeded by a period of worry and doubt