Hi guys,

I am sure you welcome all feedback !

I find it annoying ( maybe its just me ) to see the left hand column which houses the "search for" and "quick links" scroll in the opposite direction every time i scroll the main column.

Plus the fact i can never scroll down far enough to see the "ads by Google" at the bottom of the list, presumably a click on the horizontal arrows brings up the lower ads

I guess its because the search for and quick links are always visible whereever I am on the main part but its off putting to me and my eyes are always drawn to it, anyone else ?
Robs Pictures at :
Robs Car Gallery
click below to access nano website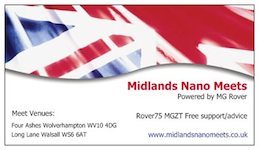 Planning is an unnatural process, much better to just get on with things, that way failure comes as a complete surprise instead of being preceeded by a period of worry and doubt