I have finally done what I have been wanting to do for a few years - fit an aftermarket heated seat kit !
I have the oem seats in my 75 and have improved them by changing the stats in the seat, however they are still not brilliant, so I set about fitting an aftermarket kit in my ZT and what a difference !
Sorry didnt do a how to with pictures but the kit i bought off e bay is here
http://www.ebay.co.uk/itm/271261505927? ... 1423.l2649
You would normally pay around £40 per seat but these are less than that for 2 seats and come with all the plugs and wiring
You need to get the seat out but you dont have to take off the seat covers completely as both covers will peel back enough for you to insert the pads and you will find that the foam inserts sitting under your seat cover already have the holes to take the wiring from the pads to underneath the seat.
If you have oem heated seat wiring already present you can tap into that and still use the oem seat switches in the dash to switch them off and on which is a bonus
They also come with their own switch for low and high settings and i have mounted that on the side of the seat valance, so the set up is the oem switch powers them up and you can then adjust the setting by the side of the seat
The pads are the latest carbon elements and heat up much faster than the traditional wire ones and the heat is coming through within 30 seconds of switching them on which is a lot lot quicker than the oem ones.
I love my cars but you have to accept that things do improve over time and I would recommend that if your existing heated seats are not up to the mark then you consider buying the carbon type which are much cheaper and better than oem, and if you havent got heated seats already then consider this your next mod in time for the winter
__________________
Robs Pictures at :
Robs Car Gallery
click below to access nano website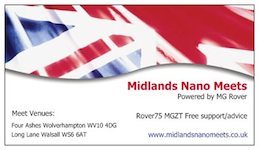 Planning is an unnatural process, much better to just get on with things, that way failure comes as a complete surprise instead of being preceeded by a period of worry and doubt